Queen Creek High School Culinary Students Prep for Feeding the Future Competition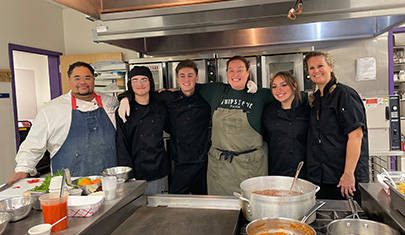 Chef Charleen Badman owns the award-winning FnB Restaurant in Scottsdale. With more than 30 years of experience in the culinary industry, she remembers coming up through the ranks, and it all started in high school.
"I was in a program in high school, "said Badman, "and I fell in love with cooking."
Now, she's mentoring three Queen Creek High School (QCHS) students through the Feeding the Future competition, a culinary contest that challenges students to create nutritious meals that meet the real-world requirements of the national school lunch program. It's a competition hosted by Blue Watermelon Project which works with students, parents, and the community to integrate taste education and interactive programming into curriculum. Queen Creek High students Madison Newman, Jacob Curtis, and Isaiah Jensen will be competing with their own recipe against students across the state.
Newman is a junior in the QCHS culinary program as part of Queen Creek Unified School District's career and technical education. She says the hands-on experience is helping her build skills for a future career as a chef.
"I learned a lot," she said. "It's given me a lot of opportunities to get out there."
The competition will take place at The Farm at South Mountain on January 28 at 11:00 a.m.
For more information about the school's culinary arts program, please visit our Culinary Arts page.