PTO
QCHS is happy to announce the launching of the Queen Creek High School PTO for the 2022–2023 school year! If you would like to get involved and/or would like to be on the email list for upcoming activities, please send an email to queencreekhighschoolpto@gmail.com or fill out the form below.
September 15, 2022
October 20, 2022
November 17, 2022
December15, 2022
January 19, 2023
February 16, 2023
March 2, 2023 or March 9, 2023
April 20, 2023
May 18, 2023
PTO Ongoing Fundraisers

QCHS Gear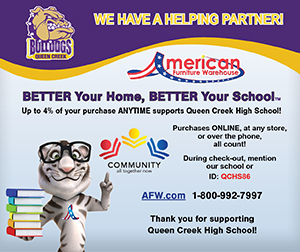 Better your home, better your school! Up to four percent of your purchase benefits Queen Creek High School.