QCUSD Students Open Sunshine Therapy for Local Medical Center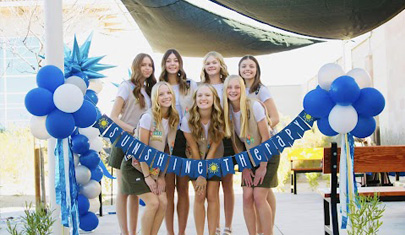 Most people know Girls Scouts this time of year by their hard-to-resist boxes of Thin Mints, Do-si-Dos and Tagalongs coming door to door or outside the local grocery store. But, Queen Creek's Girl Scout Troop #3632 has been doing much more than supplying the springtime sugar rush.
Over the last two years, they've been working on a project called "Sunshine Therapy," an outdoor space at the Mountain Vista Medical Center to help patients and staff recover and relax. They cut the ribbon on the new space, bringing therapeutic fresh air and deep meaning to the medical center.
"Choosing to build this beautiful courtyard is a blessing to more people than they will ever know," said Mountain Vista Medical Center's Kristie Porter.
Six of the seven Girl Scout troop members attend Queen Creek Schools. The girls and their families have a strong connection to the community and to the staff of the Mountain Vista Medical Center.
"During the pandemic these seven girls and their families and friends spent just about every Friday evening here right outside of the ICU," said Girl Scout Troop leader Darcy Small. "They would sing by candlelight as the night shift was coming in and the day shift was leaving, thanking these heroes for their kindness and effort in taking care of the patients."
Accomplishing the project was no easy task. The troop raised $30,000 in donations and supplies, presented to hospital administrators, worked with contractors, and the City of Mesa to make their vision a reality.
Troop members Kayla Porter, Isabella Ronning, Chloe Copeland & Addie Bernier attend Queen Creek High School. Sisters Lizzy and Ally Small attend Crismon High School, and run their own charity, Sisters 4 Kids.