Students Participate and Teach In Engineering Camp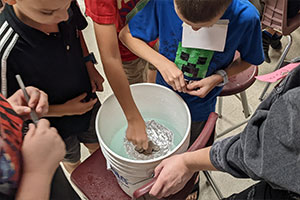 Most students took the time off from books, school, and homework during the fall break. However, one club from Queen Creek High School (QCHS) had a two-day event to help spark interest in engineering.
The QCHS's Robotics Club had and organized its first-ever engineering camp.
"The club wanted to put together something fun to foster an interest in engineering," says Robotics Club sponsor, and science teacher, Catherine Andreadis. "And to also give students an opportunity to work collaboratively on engineering problems."
The club members organized activities and lessons through a curriculum that encouraged thinking outside of the box. Some of these activities included building a tin foil boat that can hold the most pennies, managing a budget to buy materials for creating an egg drop container, and quizzing the students on engineering.
QCHS student Tyler Santos initially came up with the idea of the engineering camp. With the help of his fellow classmates, they were able to organize the lessons and activities for the camp.
"The primary goal of this engineering camp was to encourage and inspire the attendees to pursue STEM learning," says Santos. "These goals were achieved through a curriculum that encouraged thinking outside of the box and included a variety of scientific principles. By involving numerous scientific principles, attendees were able to get a taste of different engineering fields as each field focuses on different scientific principles."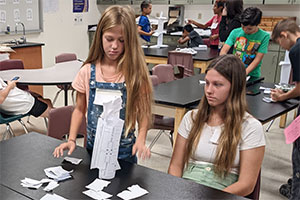 Santos also gave great credit to those who helped in the event.
"This entire event would not have been possible had it not been for our fantastic volunteers, so I am very thankful for their aid," says Santos. "Our volunteers were: Alyssa Neal, Anna Huber, Preston Pofahl, Nathan Hunt, Ezra Clark, Anneli Sorensen, Isabelle Wang, Veronica Medina, Mihret Zenebe, and Landen Eisenhart."